{EAV:35ab9618bb6779a1}
Quirky, the company known for making "invention accessible" has partnered with GE to encourage the development of new connected devices that are smarter because of their connection to the Internet and your mobile device.  The partnership will open thousands of GE's most promising patents and new technologies to the Quirky community for the development of new consumer products.  The co-branded line of app-enabled connected devices for the home will be called "Wink: Instantly Connected".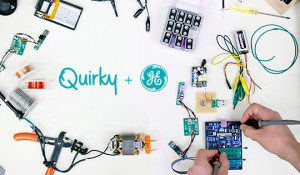 Submissions may be entered now at Quirky.com/GE.  The first round of evaluations by GE and Quirky will be during a special product evaluation on April 17th, 2013.  After that event, the companies and experts in the Quirky community will continue to review ideas as part of the regular Quirky review process.  The new line of products will be developed by Quirky and distributed to top retailers.
"At GE we are passionate about innovation at market speed, working with entrepreneurs and finding new models of business, and this partnership is just another way we can help inspire invention and help scale it. We are excited to see how the Quirky community uses tools from our scientists and technologists around the world to develop products in an entirely different way."
Beth Comstock, SVP and Chief Marketing Officer, GE
The Wink line of products will be submitted through the standard Quirky platform, but will be without the normal $10 fee.  Influence will be awarded and paid out the same way as it is for Quirky's other products and can be reviewed online at Quirky.com.