The image recognition application from Blippar (direct link) has been available on iOS, Android, Windows Phone and Blackberry (really) for quite a while, but their announcement at the Mobile World Congress (MWC) in Barcelona takes their cutting-edge technology to it's next logical evolution.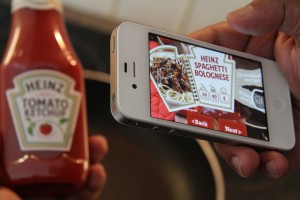 Simply, the Blippar app uses nearly anything that a smart device's camera can focus on and uses it as a trigger for interactive content.  Simple images from packaging, television, print media, signage, online, merchandising or books can be linked to augmented reality and video, audio or other data.
Blippar's recent innovation is the first of it's kind, an image recognition app designed specifically for Google Glass.  At MWC, Blippar CEO Ambarish Mitra showed off the app, displaying how Blippar on Google Glass can quickly recognize images, products, and even faces of people.  It is important to note that Google has ensured the public that Glass will never support facial recognition — how Blippar will approach this is unclear at this point.
Forbes.com calls Blippar's Google Glass applicator a "possibility for a killer app for Google's head-mounted computer" (direct link) and it may be just that — a substantial move on our path to the acceptance of enhanced environment.