With 2012 drawing to a close (and the International CES coming in the first week of the new year) we take a look ahead at some of the advances that could make the leap to the consumer in 2013.
Smart Glasses
Potentially the next great leap in truly personal technology, smart glasses could provide an always-on augmented reality experience. Overlaying information about whatever is in sight and providing a head-up display of the information that is currently displayed on a smartphone (imagine the world tagged with Wikipedia entries). Smart glasses are already in the public eye, particularly Google's Project Glass; but there are very real alternatives, including an unconfirmed product from Microsoft and the M100 from Vuzix (which is currently slated to beat Google to market by a year and was featured on the Architechnologist here).
Embedded Tech (aka Home Monitoring)
Everything from appliances and lighting to windows and locks are accessible from mobile devices and the internet. Continuing a steady march into the mainstream, the technology that is an integral part of our physical environment is now being promoted by cable and telephone providers as a part of their offered packages. This encouragement, combined with subsidized equipment costs from providers, could be the key to evolving from a "future trend" to a "normal" feature.
Oddly, recently the Consumer Electronics Association (CEA) suggested terminology for embedded technology that leaves a lot to be desired: "home monitoring". This name excludes both the workplace and public spaces (both of which are becoming increasingly connected environments) and the automation that the connected devices allow. More on the announcement can be found at http://bre.ad/03t4el.
The Virtual Made Physical and the Physical, Virtual
The mirror image to the idea of embedded technology has seen an explosion of breakthroughs in the last year. The wide spectrum of innovations that blur the line between physical and virtual are reaching the point of consumer-readiness. RFID (radio frequency identification) and NFC (near-field communication) enabled technologies create a seamless bridge between the virtual and physical. Appearing in everything from mobile payment systems to toys (like Activision's Skylanders), RFID and NFC are already part of the public experience and so invisible that they have been accepted with little argument.
More intangible advances have made and early examples may make their way into the public eye in the coming year. The system from Tactus Technology was recently featured on TECHNOGORILLA (link), it's ability to push physical controls up from a flat screen based on the virtual content and then pulls them back when no longer needed could revolutionize and the way we interact with any device that includes a screen.
and they are all destined to FAIL.
All of the next great evolutions in consumer technology are being held back by two barriers with a innocuous moniker: B and B. Neither "bed and breakfast" nor "Bénédictine and Brandy", our nemesis is "battery and bandwidth".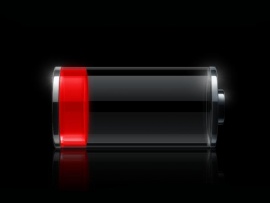 It seems apparent that despite regular improvement to both battery capabilities and network speed, the requirements on either or both of these are constantly a relatively fixed amount more than what is readily available — we can call that "Kaufman's Hypothesis". For example, despite the revolutionary capabilities of smart glasses, they are destined to be only a gimmick until the minimum battery life is at least as long as the maximum duration of a single event. If that event is a day (as shown in Google's first concept video, here), I suspect that we have a long way to go. Obviously, the necessity of bandwidth via a flawless, always-on internet connection for mobile systems (like smart glasses) is paramount and poses just as great a threat to the adoption of new technology as power requirements.
If/when we outrun this theory and have "all the bandwidth and battery life we'll ever need", only then will technology like Project Glass, groundbreaking embedded technologies and virtual/physical mergers be truly viable.