There are only a few companies that can arguably provide hardware or software that is actively changing our very existence; the big players are obvious: Apple, Google and Microsoft, for example, all provide devices that have so infiltrated our lives that we often forget that they are even there (think about your local ATM, probably running an unfortunately outdated version of Microsoft Windows). Of course there are a few companies that create the things that plug into the bigger companies, they bring additional innovation that is sometimes lost when a company gets… large.
And then… there are a handful of small companies that do just a few things, but do them very, very right — Withings is one of those companies. They have embraced some of the same ideas that are the focus of "the Architechnologist"; specifically that the Smart Place is intrinsically connected to the Quantified Self. These two things together  have the potential to change the way we live and experience the world. Their initial offering was one of the first connected scales, now evolved to monitor your weight, heart rate and the surrounding area's carbon dioxide. More recently, Withings has done two things that are very interesting: First, they showed the world that incredibly innovative devices could be beautifully designed and that the good design often makes the innovation even better. Second, Withings branched out with devices that could connect the Smart Place and the Quantified Self, essentially tying together the Internet of Things with the Internet of Me.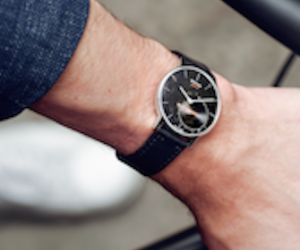 Withings Activité is the update to their entry into the activity-monitoring device world. It changes the idea of a device that collects activity data (steps, mileage, calories, etc) from a dedicated wristband with a secondary ability to tell the time to an elegant wristwatch that secrets away all that data collection. The only outward indication that there is more to the Activité is an additional 0-100 gauge that indicates the user's progress towards their daily step goal — everything else is still being collected, it is just being sent to their award-winning mobile application.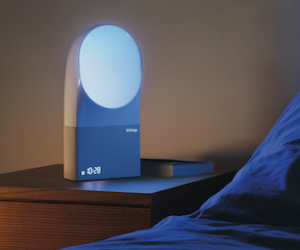 Alongside the activity monitoring Activité is the Withings Aura — arguably a non-activity monitoring device, it monitors and improves your sleep experience. Using "scientifically-validated" programs of  light and sound, the Aura positively impacts your wake-up and fall-asleep experience by referencing data gathered from the bed-side unit (noise pollution, room temperature and light levels) and a sleep sensor under your mattress (body movements, breathing cycles and heart rate).
[box type="info" border="full"]Cool feature: The Withings Aura has a specially modified USB port for charging your device. It automatically puts your phone into airplane mode to silence disturbances from your device and limit the radiation from keeping a mobile phone at your bedside.[/box]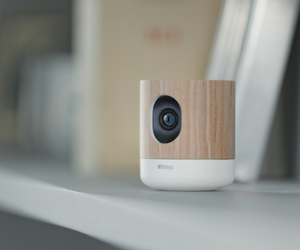 The linchpin of Withings' entree into the unified, quantified world is their newest device: the Withings Home — a video monitoring and environmental sensing device. Featuring a HD camera with a 135° wide-angle zoom and night vision that provides motion and noise detection the Home device connects to the network, making it's data available anywhere to the applications that will make use of it. This data pool is expanded by the Home's measuring of temperature, humidity and air quality.
All our devices so far have primarily served the body. They provide valuable information around blood pressure, activity levels, weight – all data that can inspire healthy choices in diet, exercise and sleep. With Withings Home, we're addressing a very critical part of the health and well-being puzzle that has not yet been served by a single device. Home helps ensure your family is both safe and living in a healthy environment.
— Cedric Hutchings, CEO of Withings
Using the Withings devices as a model, the pieces fit together elegantly and create a connected environment that can actively improve the lives of the people that engage them. Examples are mind-blowing:
The user's activity monitor communicates with the motion sensor in the kitchen, where it would change the color of it's LED illuminated base to green if the user has met their step goal for the day or red if they have not… guiding the user to make appropriate food choices. (Perhaps that cookie is not the best idea if you haven't burned enough calories for the day.)
The environmental sensors recognize contaminants in the air and combine that information with data from your sleep monitoring device, which could communicate that the poor air quality is affecting your health.
Withings has proved that incredibly well thought-out design integrates with innovative technology… connecting those devices to a unifying framework (Apple's HomeKit for example) could enable devices like the Withings Home to dramatically improve lives. Combining that system to a health-monitoring platform (like Apple's HealthKit) might just make for a single life-improving system that takes it's cues from our lives and environment. I suspect that the not-so subtle similarities between the two aforementioned Apple frameworks has not been lost, the potential of the symbiotic relationship between the two certainly has not been.