Wearable technology (aka "wearables") of every kind have been abundant at the International CES in Las Vegas this week: augmented reality eyewear, smartwatches, health monitors and more.  Some of even call themselves "fashionable" but most are far from it.
Then there are cases and bags for our devices — designed to fit every lifestyle and personal taste that can be imagined.  With all that in mind, a short meeting with a small team of designers and makers from New York City made us reconsider our definition wearable tech — Avid Union has created two pieces of "tech fashion" that show an understanding of current technology and a healthy dose of imagination to consider future innovations.
The Shield is a tech jacket that is not just designed for modern life, but also protects privacy by shielding some devices (particularly those with radio-frequency identification or near-field communication capability) while properly pocketing others.  The Shield made it's public debut at CES 2014 and the Architechnologist is proud to bring you the first look.  The Shield features that amazing RFID-blocking interior pocket wrapped in a weatherproof carbon fiber-inspired shell with a detachable hood and "ninja sleeves" for keeping hands warm and unexposed without having to pack gloves.  And just to add to the innovation of the Shield, the team at Avid Union has morphed the weather-proof jacket into an equally amazing hoodie, with all the same interior features.  Both members of the Shield family are available for purchase now through AvidUnion's website (direct link).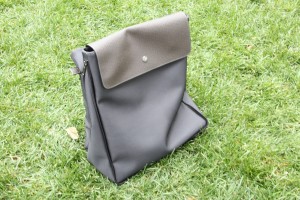 Just as innovative as the Shield is a tech-focused case that transitions between briefcase, sling bag and backpack with stunning good looks.  The Blade ventured from the workshop for the first time at CES 2014 and the we went "hands on" to bring you the first photos.   Crafted with a waterproof carbon fiber inspired shell, premium leather and gun metal hardware, the Blade also offers the same RFID protective pocket tech that is part of the Sheild jacket.  Like most of the computer bags on the floor of CES, the Blade has a padded laptop pocket and pockets to hold your wires and additional accessories; unlike the majority of those bags, the Blade has a huge (really) expandable pocket that was able to easily handle a full-size DSLR camera with plenty of room to spare.  And to prevent the unfortunate appearance of an over-stuffed bag (it happens to all of us), the front lid offers flexibility when closing with three position magnetic snaps.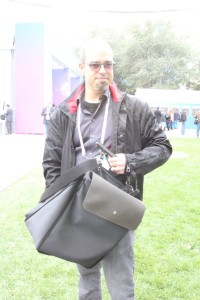 The Blade tech case is coming to a Kickstarter campaign and then to direct sale through avidunion.com.  For updates on the Blade, register on the page for the (successful) Shield campaign (direct link) or on AvidUnion's Facebook page (direct link).