The previous post (link) on the M100 smart glasses from Vuzix received an almost immediate response, most notably from the CEO of Vuzix:
Not to be picky but I think a point you might have missed in your piece is that for heavy user applications Vuzix offers clip on batteries to solve battery issues and we are employing some cool "always ready" but not always on tech so that power consumption is only happening when the apps needs it.
For these reasons (and the fact that our initial focus is in the enterprise space where a remote battery is not an issue) I don't believe your "destined to fail" comment is correct.
Paul Travers, CEO of Vuzix
After being picked up by the SciTech Rangers Daily (http://bit.ly/yRuReA), it was clear that a follow-up was in order.
First and foremost: whatever technology (either hardware or software) that is a standard part of any device to enhance battery life is an integral enhancement to the device itself and should be considered as such; i.e. a smartphone may claim that a full charge will provide 8 hours of talk-time (as Apple's iPhone 5 does) while another claims up to 18 hours (like the HTC One), but a huge variety of external devices can increase that potential nearly infinitely while remaining "mobile".  As both Google Glass and the Vuzix M100 are still pre-consumer devices, we will not comment on their current battery life, but await final specifications and real-world tests.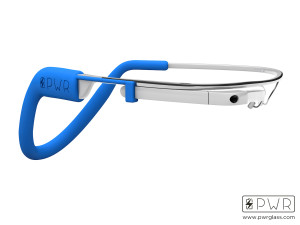 In an Engadget review of the Google Glass Explorer Edition headset (link), during a test of "average usage" (reading emails and taking photos and short videos), the built-in battery in Glass only last five hours before it "unceremoniously shut itself down".
There is an additional item that should be noted in the comment from Vuzix — the "initial focus" of the M100 smart glasses is enterprise, rather than Google Glass who would appear to be appealing to the mass market.  This small difference makes a tremendous change in the usage of the two devices and opens the door for much larger (albeit potentially awkward) external batteries for the Vuzix device.  Assuming Google Glass is for the "average" technology consumer, then smaller and more "invisible" supplementary batteries will be necessary.  If the M100 is designed for the business worker, then a substantial battery could be part of the device when needed, tremendously expanding it's battery life and it's potential value.
While we await more information on remote batteries from Vuzix, we should note the PWRGlass concept, a proposed third-party external battery for Google Glass.  Claiming to potentially more than triple the battery life of Google Glass, the lithium-ion-powered, rechargeable battery will attach to the arms of the Glass device, sitting behind the head of the wearer.
Obviously, as the wearable tech sphere will only get larger in the foreseeable future, battery life — both integrated and remote — will continue to be a hot topic.  What are your thoughts?