Vuzix raised more than a few eyebrows at the 2012 International Consumer Electronics Show (CES) with a showcase of very innovative video eyewear products — personal display devices that promised wearable displays with virtual and augmented reality capability. With this year's International CES just two months away, we were beginning to wonder what we might expect from Vuzix now. At the CES NY Press Preview event on Monday, November 12th 2012, we found out…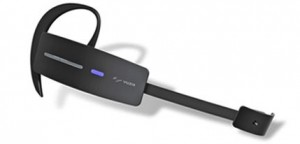 The new Vuzix Smart Glasses M100 was selected as an Innovations 2013 Design and Engineering BEST OF INNOVATIONS honoree in both the Wireless Handset Accessories and Personal Electronics categories.  Claiming the title of world's first "Hands Free" smartphone display, the M100 is expected to reach the consumer market more than a year before the similar (and much more widely promoted) Project Glass from Google. Vuzix smart glasses promise a wearable augmented reality link to the Cloud through a smart device — providing text, video, email, mapping, audio and more through a Bluetooth connection.
According to the latest information from Vuzix, the M100 will feature a virtual display with integrated camera and powerful processing engine running an Android OS that can connect to the Internet and run applications on its own, but works with existing and future applications on a smartphone.
"Running the Android OS enables application downloads directly into Vuzix Smart Glasses M100. This flexibility is going to open up many amazing new solutions for our users from advanced HUD navigation applications to gaming. Not only are Vuzix Smart Glasses M100 a great hands free solution, but finally there is a platform that is designed specifically for the growing augmented reality markets. Enabling hands-free access to applications from visual search to derivatives of mapping street views – all will finally be available in a pair of Vuzix Smart Glasses."
Paul J. Travers, Chief Executive Officer, Vuzix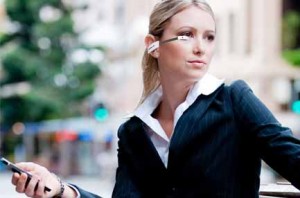 With the M100's augmented reality camera/display functionality, Vuzix smart glasses could be a groundbreaking hands-free accessory — allowing a head-up visual address book and caller ID, visual navigation through augmented reality and other augmented reality applications.  The hardware within the Vuzix smart glasses M100 provide spacial and positional awareness and an integrated camera enables video and still image capture; combining the integrated camera with interactive tracking, applications on the M100 and a smartphone the Vuzix Smart Glasses M100 could merge virtual information with the real world.
The Vuzix Smart Glasses M100 will be demonstrated at the 2013 International CES in January with a number of advanced hands-free applications.  The Vuzix website states that the Vuzix smart glasses M100 is expected to ship to the public by mid 2013.  The website also announces an early production release for approved developers with the first release of the software-developer's kit, which is expected in December 2012.  More information is available on the Vuzix website at www.vuzix.com.