The Consumer Electronics Association is again bringing their mid-year Line Shows as to New York City as part of CE Week , this time with an even bigger bumper c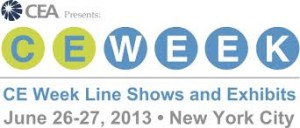 rop of the latest technological advancements.  Just like the International Consumer Electronics Show (CES) that occurs every January in Las Vegas, CE Week showcases some of the tech that might make the next generations of our smart devices even smarter (or at least, stronger).  We will be reporting from the CEA Line Shows and ShowStoppers with the amazing new electronics that will change the way we perceive the world.
There are a few exhibitors that we are particularly excited to see…
The BEAN from Etymotic Research is a personal sound amplifier, available without a prescription, that allows for better hearing in difficult conditions.
The latest from LifeProof, nüüd cases for iPhone 5 and Samsung Galaxy S III feature protection without a screen cover against water, dirt, snow, and shock.
myIDkey is the first fingerprint, voice-search, secure Bluetooth / USB drive that displays passwords and ID on the go as well as works with smart mobile devices and personal computers.
The Beddit is a "well duh" innovation an ultra-thin film sensor is placed in your bed, under the sheet, to track your sleeping patterns, heartbeats, and breathing, automatically and every night.
Kevo has innovated the electronic key (eKey) with UniKey touch-to-open™ technology. Your smartphone stays in a pocket or purse (to keep hands free for groceries, strollers or boxes) eliminating the hassle of fumbling for keys and works as a standard deadbolt lock .
CE Week officially begins on Monday, June 24th — it will be a great time to follow the Architechnologist (@architechnoist) on Twitter.