Last month, we announced that Staples would be launching Staples Connect — an automation system including a universal hub, app and connected devices.  Right on schedule, our first look at the interactive retail kiosk for Staples Connect was at the GigaOM Mobilize event last week in San Francisco, CA and should be available to everyone in select stores this November.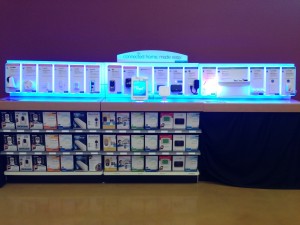 The solution behind the hardware is the real power that the Staples Connect system provides — through a platform of embedded software, mobile applications and cloud-based software from Zonoff.  Their service allows partners that utilize the system to "leverage the Internet of Things" using Zonoff as their support structure, while they focus on their brand and products.
We had a chance to sit with Mike Harris, CEO of Zonoff, while at the CEDIA Expo in September and asked him about their role in the Staples Connect system and how it might succeed in the increasingly crowded arena of the "connected place".  He said that a large part of that potential comes from the sheer number of retailers and providers that Staples (the largest office products company in the world) has within their reach.  For example, the Staples Connect hub will be utilizing both Linksys equipment and a Lutron radio to control those devices.  Thanks to the platform from Zonoff, radios can be added via bridge devices to expand the capabilities of the Staples Connect system.
The broad customer base that visits Staples (either online or in physical stores) is very seasonal, with different demographics throughout the year (students and parents in September, businesses at tax-time and the new year, etc.).  This accessibility to the mass market may help drive acceptance of the customer-installed automation system.  Additionally, it will surely increase the installation of different connected devices as the Zonoff software that controls the system will make suggestions for additional possibilities, all in-application on the mobile device.
The Staples Connect Hub and a selection of connected devices will be available online and in a limited number of Staples stores beginning in November.
Related articles