AT&T presented an exclusive first look at some of the devices and services they are offering this holiday season to the NYC technology media, including some as-yet unannounced items.
The new Nokia Lumia 920 with Windows Phone 8 was available for a quick hands-on — read some of our initial thoughts about the augmented reality of this smartphone here.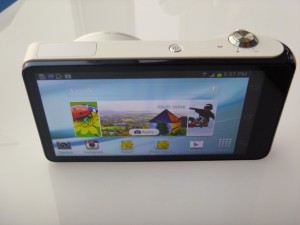 Also making an appearance was the Android-based Samsung Galaxy Camera, a brilliant diversion from the "connected device with a camera attached" mentality.  Featuring a 4.77 inch display that makes both viewing and editing photos simple, the real beauty of this device comes when you begin to use the applications and features that come from it's smartphone lineage.  Seamlessly connecting to the internet via either WiFi or 3G, the Galaxy Camera can upload on the fly and the automatic cloud back-up feature automatically saves photos into the cloud the instant they are taken.
Stepping confidently into the bring-your-own-device arena with AT&T Toggle, a service that gives mobile professionals the option to use their smartphones and tablets for both business and personal use, quickly switching between work and play with a few quick taps.  Toggle claims to make this possible on both iOS and Android devices and with nearly any provider.  IT departments are given access to the business side of a device through a web portal, allowing control of access, updating applications and remote wipe.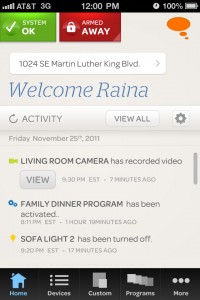 Standing out among the phones and tablets was the Digital Life platform, a security and home automation system.  A far more affordable version of high-end automation systems (like those from Crestron, Control4 and Savant), the Digital Life system will inevitably lack some of the power, but will have "no capacity limits to the number and variety of devices [they] can connect to and integrate" according to AT&T.
With access to automation, energy and water controls, and security systems, similar to other third-party automation systems (like SmartThings, which we reviewed earlier here), there may not be a clear winner in this growing field until all the contenders are available and in use by the public.  While most systems have similar initial rosters of available devices, Digital Life does hold a few substantial benefits over SmartThings, particularly professional installation (of the platform, sensors and other devices) and AT&T owned and operated 24/7 security monitoring centers.
Digital Life is currently in trials in Dallas and Atlanta and while there is no official date for expansion, rumor suggests that it may come before the end of this year.  To keep informed on the availability of AT&T Digital Life, visit the registration page for updates (http://dl-support.att.com/digitallife) and sign-up for the mailing list.