With Apple's 2014 Worldwide Developer Conference (WWDC) just under a week away, the rumor mills are pushing out reports of things that may or may not come to fruition, now or ever (pun intended). There are a few that particularly pique the interest of us that see the value in both the enhanced environment and the renowned Apple design methodology: most notably is the recent report that Apple will introduce software and functionality for smart places, allowing iOS devices to control connected devices. We first pondered this potential in October 2013 based on a post in PandoDaily (here).
[box type="info" style="rounded" border="full"]Apple updated its website to announce that the WWDC keynote will be available to the public through a live video stream. The keynote kicks off at 10:00 AM Pacific Time. [/box]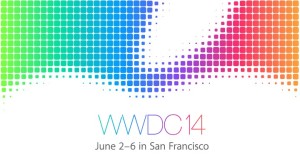 Details are very scarce, but we can assume that the system will work with devices from other companies as long as they meet Apple's requirements — similar to the "Made for iPhone" program for accessories. One outstanding question (if this is even real) would be the selection of wireless connection: one of the established systems (like ZigBee or Z-Wave) or possibly Apple's own iBeacon technology.
Or… if Apple announces the next iPhone at WWDC and it includes near-field communication (NFC) technology (as some analysts have predicted), that would be a method of enabling smart-home features. This concept is especially interesting when considering not the strengths of using NFC, but its limitations: utilizing NFC technology would limit the number of iOS devices that would work with Apple's smart home system to new hardware, keeping adoption slow. This would keep with historical trends for Apple: allow others to make the major development mistakes (and investment) in new arenas then come along with better looking, well engineered and (often) semi-proprietary options.
There are many home automation products already on the market and nearly all have their own smartphone apps; including Staples Connect (here and here). If Apple were to enter this arena in an attempt to unify a controller, user-interface and all the devices that would be happy to be "approved", they could quickly take a substantial share. All this at the same time as defusing the potential of Microsoft's Lab of Things, announced at their 2013 "Faculty Summit" and reported here.
At this point, it is expected that Apple will debut both the next version of OS X and iOS 8 at WWDC, which is believed to include a number of new apps and could include these home-automation features. We defer to the amazing MacRumors for their  round-up of what we might expect at the WWDC keynote, available here.
[box type="info" style="rounded" border="full"]Depending on what actually debuts at WWDC, there will either be a follow-up here or in a new post.
** Find our substantial commentary on HomeKit here **[/box]
[box type="alert" style="rounded"]Update from GigaOM: Apple's smart home news in the Financial Times got people excited, but my sources reveal a program that's much less about a whole-home experience and more about fighting fragmentation.
Deep Link[/box]