The development of devices for the Internet of Things can possibly be described as a free-for-all, many companies with many concepts who design to different ideals on different specifications. There are always success stories: products that have a winning combination of innovation, design, engineering, timing, usefulness and luck. A clear example is the Nest Learning Thermostat (for the uninitiated, the product website proclaims it "learns your schedule, programs itself and can be controlled from your phone"). Now, the quintessential thermostat company. Honeywell, has thrown down a gauntlet at the feet of the upstart.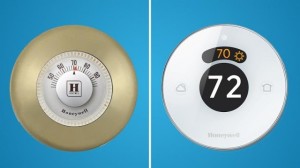 The Lyric wi-fi thermostat has clearly inherited it's appearance from classic Honeywell thermostats, particularly the round shape and outer rotating control ring. Just as obvious is that the Nest drew inspiration from the same history.
Perhaps more important is Honeywell's promise that the Lyric thermostat is just the first of a suite of devices on the Lyric platform. The announcement of a new platform that could potentially compete in the increasingly crowded "connected world" theater is a complex decision, especially with Apple's new HomeKit and devices built off of Google's purchase of Nest.
The timing was right in terms of everyone having phones, multiple people in homes having phones, and everyone's comfort level in using their phones to control their lifestyles.
— Beth Wozniak, President of Honeywell's Environmental and Combustion Control Division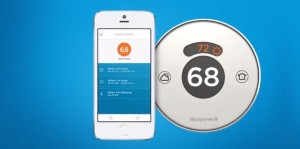 One particularly innovative feature of the Lyric thermostat is it's method of determining your location's weather and your interaction with it. Rather than "just learning" the users' habits, the Lyric uses geofencing to update the indoor climate based on occupancy — shifting from "nobody's home" to "be comfortable" when the linked smart device (iOS or Android) enters or leaves the geofenced area. Naturally, the user can fine-tune based on unique moments or recurring events. We are particularly fond (and personally enamored ofP the Lyric "Fine Tune" feature that makes small adjustments based on indoor and outdoor temperatures and humidity levels. For example, on a humid day Lyric might drop the temperature to compensate, while on a hot, dry day it might not need to run the HVAC system as often.
It might not be all cut-throat competition however, Honeywell is one of Apple's HomeKit partners (as revealed at the WWDC) and has the support of contractors that already know the Honeywell brand. The Honeywell Lyric smart thermostat is currently only available to contractors, but should be available in Lowe's stores in August. At a cost of $279, the Lyric Wi-Fi thermostat is currently $30 more than the Nest device, but that may change when both are available and competing for the same consumer.