The Morpholio Project has been creating applications that open the "discussion, debate and critique" of visual design to the public since 2011 (they have even been seen on the Architechnologist before, with Morpholio, A Virtual Charette). Their latest project goes one step further, embracing the ever-increasing connection between human and network. Looking to investigate the physical impact of visual input on the human body, specifically the responses our bodies make when engaging with the world and how they reflect our inner states and assessments.
All of our projects are a result of some research and problem solving. At Morpholio, we make tools to empower designers and creative minds.  We're trying to figure out what the tools of the future should be. — Anna Kenoff, Morpholio co-creator
Morpholio turned to the medical profession to learn to measure the pulse by periodically taking photos of an illuminated region of skin and the small fluctuations in color that result from actual blood flow through the skin.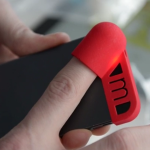 In the new application, images flash across the screen as the heart rate fluctuations of the user are recorded, thereby tracking their visceral response to the images. In order to make their readings consistent, the Morpholio team developed a 3d printed fitting for the iPhone that indicates how to locate your finger properly on the device and block external light from entering the camera.
The Morpholio Project continues its exploration into how the analog tools of design make the transition into the always-on device culture and through their projects, it has been able to leverage metrics such as how much time you look at an image and where someone zooms into an image.  Morpholio's research first created "EyeTime" which measures the impact of an image through the amount of viewing time it receives.  The tool has now been used to provide feedback to those active in the Morpholio app as well as to create public juries for a series of competitions on design, art and photography.