Since 2011, the internet community has encouraged users to backup their data on March 31st – contributors on Reddit had noticed that the number of malware attachments increased on April Fools' Day and an unofficial holiday was born. We take this opportunity to raise awareness about threats like ransomware and malware as well as the incredible importance of regular backups – because laptops and devices can be stolen, damaged or lost. Data can disappear forever, users can lose irreplaceable videos and images, sensitive financial and legal documents or priceless family memories.
Disclaimer: This post is sponsored by Acronis; all opinions are our own.
Acronis Steps Up
Last year, our friends at Acronis published Understanding the Value of Data on World Backup Day and this year, they have updated their main consumer product to address some of the issues they discovered. Acronis True Image 2017 – New Generation is packed with features that allow users to create a complete backup image of your PC/laptop and store it locally or in the cloud. Information can be retrieved from the backup, one file at a time if desired, from anywhere even from a mobile device.
The new Acronis True Image 2017 includes also includes the ability to backup mobile devices (either iOS or Android) to local computer or to the cloud. Even more incredibly, the new software also creates backups of Facebook content, so no memory is every lost to accidental deletion.
More features in the new version include:
Acronis Active Protection™ protects data from ransomware attack while working in the background (currently for Windows only).
Acronis Notary™ uses Blockchain technology to ensure that files remain unchanged, even when shared with others.
Acronis ASign™ allows users to request electronic signatures which then include an audit trail.
Special Acronis Twitter Party Announcement:
I am joining with Acronis and a few of my friends to host a World Backup Day twitter party tonight (March 30th 2017) at 9pm ET – join me (@TheMrKaufman), @DadaRocks, @ClassyMommy, @GayNYCDad, @DadOfDivas and @RealTedHicks by following @Acronis and using the #AcronisWBD and #WorldBackupDay hashtags.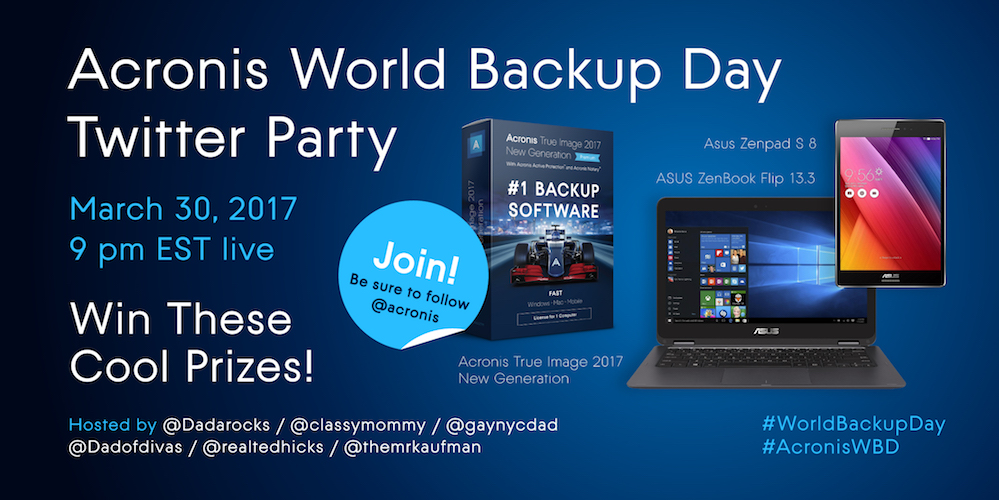 We will be talking backups (of course) and other important matters of security for your data. There will also be awesome prizes for some lucky winners, including an Asus Zenpad S8, an Asus ZenBook Flip 13.3 and copies of Acronis True Image 2017 – New Generation. See you tonight on Twitter!