After our last post that introduced The People's Operator (TPO), the idea of embracing social good as part of our everyday lives has expanded far beyond TPO's embrace of automatic donations to charitable donations.  The 10% of each bill that The People's Operator donates to our selected charity (the American Lung Association, if you're curious) started a flood of giving, not just from the Architechnologist as a business but from my family… and even from my children.
The Architechnologist has donated technical support to charities and not-for-profits since it's creation, but now we have decided that we could do more. We have started a "review product matching" program, every product that we consider for review is offered the opportunity to donate a second unit (or more) that we then donate to one of the local charities that we support. A recent collection of "toys to life" products were donated to "Stockings With Care", a group that helps families in New York City's homeless shelters provide gifts to children over the holidays.
Each of my three pre-teen children donated $75 of their own money to the World Wildlife Fund this year (WWF is also a TPO charity). They each received a trio of plush animals from WWF as part of the donation (here's a link if you would like to get the same: WWF Plush Animals).
My oldest daughter is now in middle-school and she has earned the privilege of a smartphone this year… one that donates 10% of the bill (yes, that she pays for) to the World Wildlife Fund.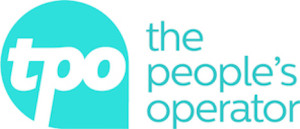 Above and beyond providing solid service (using the Sprint network here in the US) and smartphones using both iOS and Android operating systems, the team at The People's Operator has been doing their own good deeds as well. TPO recently traveled to Illinois to volunteer at the Chicago Housing Authority Operation Warm event where 10,000 coats were given to families in need (and yes, Operation Warm is also one of the fantastic charities that you can select to receive 10% of your TPO cellular bill, here's the link). Hundreds of those same families received free smartphones from TPO, hopefully the warmth of bringing families and friends that are separated by great distance together will make those coats even warmer.
[button link="http://bit.ly/1DuCemw" color="teal"]Join The TPO Global Giving Platform
Click Here[/button]
And if you're thinking you deserve some good too, The People's Operator (and The Architechnologist) agree… through the end of December TPO is offering half off all plans for the first two months (that's unlimited Talk and Text with 7GB of high speed 4G LTE data for only $25).
Here are the direct links to the plan listings:
You have been extra, extra good this year? Okay, TPO is now offering bundles to give you a free phone with service.
Bundle 1: FREE LG Optimus F3 Android smartphone with 1500 Minutes, 1500 Texts and 1GB of high speed 4G LTE data for 3 months for only $59.
Bundle 2: FREE HTC Desire 510 Android smartphone with Unlimited Talk, Text and 2GB of high speed 4G LTE data for 3 months for only $99.
You can find both bundles here: http://www.tpophonestore.com/TPO-Bundles-with-service.html, available now.
[box type="info"]This is a sponsored post; I am a blogger for The People's Operator, though all opinions are my own.[/box]