Smart speakers continue to get more intelligent — advancements in software combine with connected devices of the Internet of Things (IoT) to continue the evolution. Sonos has stepped into the arena to advance the often overlooked speaker by adding Amazon Alexa to their wireless Sonos Home Sound System.
Sonos is the wireless speaker system with the ability to fill rooms with great-sounding music, movies and television. Combinations of multiple speakers create zones of sound or fill a whole home. Sonos speakers can stream audio from Amazon Music, Spotify, Apple Music, internet radio and hundreds of other streaming services.
The incredible feature set of the Sonos application allows users to choose what to play, where to play it and how loud. With the introduction of Amazon Alexa, all of those features are accessible through voice control.
Disclaimer: The reviewer has been compensated in the form of a Best Buy Gift Card and received the product for free.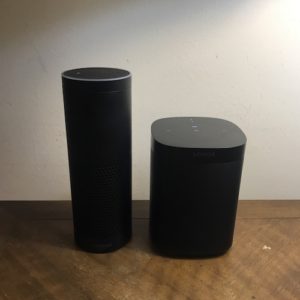 The Sonos One speaker installs with a simple connection to local WiFi (like any other Sonos Home Sound System speaker) and then synchronizes with Amazon Alexa through a dedicated skill. The Sonos One has a slightly larger footprint than the standard Amazon Echo but provides an incredibly robust sound even without additional Sonos speakers to add to the experience.
Combining new audio-visual skills accessible to Amazon Alexa, such as the Harmony – Optimized for Smart Home skill released this past summer (Harmony Speaks Fluent Alexa, The Architechnologist, July 16, 2017), with the tremendous sound of a Sonos Home Sound System could make the merged system into an awesome voice-controlled home theater system with cinema-quality sound.
One thing that we did not care for in the Sonos One is the lack of the light ring indicator that is present on Amazon Echo devices, the only sign that Alexa on the Sonos One has heard you is the brightening of a small indicator light. This is certainly not a deal breaker, not even close when you consider the incredible sound, but it is an annoyance.
The addition of Amazon Alexa to a Sonos speaker is a logical partnership that will add the continuously expanding capabilities of the smart home to the home-wide audio system.