Staples, the largest office products company in the world, announced the launch of Staples Connect — an automation system including a universal hub, app and connected devices.  The combination of these parts will allow users to shut down their office, turn off lights, lower shades and lock doors with just a tap on their smartphone or tablet… while at the same time turning on their lights and heat at home.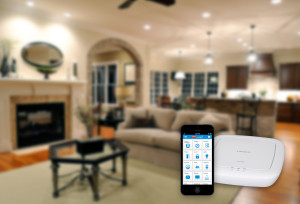 Like many other consumer-installed automation systems, Staples Connect claims easy set-up for consumers, but unlike most others, Staples will also be making installation available through Staples EasyTech Services.  Customers can either select a starter kit or choose specific products and services to start with, and add new devices as they go.  A thorough investigation of some of the available consumer-installed systems was published by the Architechnologist in May (available here).
The Staples Connect Hub is powered by Linksys and will be available online and in a limited number of Staples stores beginning in November for $99.  Connected devices will be available for lighting control and lighting (from names like Lutron, Philips and GE), climate control (including leaders such as Honeywell) and safety brands like Yale and First Alert.  The Staples Connect application will be powered by a platform developed by Zonoff Inc., allowing the partnership of a "world-class lineup"
Staples Connect gives consumers looking for a home or office automation solution a broad selection of products to choose from, featuring the top names in safety, lighting, heating and cooling. Staples Connect uses products from the biggest and best brands, as well as innovative newcomers, like DoorBot wireless doorbells and ivee voice-activated alarm clocks. Our app makes it easy for customers to control their entire home or office from their smartphone, tablet or laptop, wherever they may be.
— Mike Edwards, Executive Vice President of Merchandising, Staples
The new interactive Staples Connect retail kiosk, which will be in select stores this November, will be on public display for the first time at the GigaOM Mobilize event to be held in San Francisco, CA on October 16th and 17th.
The addition of another substantial player in the "home automation / smarthome / internet of things" space will likely not be the last; the particular role in the mass market that Staples fills could give the edge that might just push adoption.