Dragons have been trained and ridden — now, building on the augmented reality technology of Nokia's HERE Maps and LiveSight, the team at DreamWorks Animation are bringing the dragons of the award-winning animated film, "How to Train Your Dragon" home to you.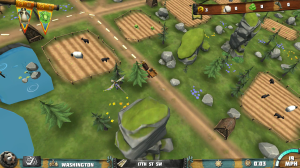 Designed for the new Nokia Lumia 2520 tablet (with a companion application for Windows 8 phones), Dragons Adventure uses augmented reality to bring the magical dragons from the movie to life.  The game is designed to be played during a car trip — augmented reality creates a personalized game terrain that mirrors the real terrain outside the player's window, generated in real time while they ride.  Dragons Adventure even allows you to hold up the tablet to look for items around you, like your very own dragon.
HERE Maps and the City Lens augmented reality browser came out of beta more than a year ago when it set a very high standard for the technology — revisit the launch in our post from September 2012,  Augmented Reality Lit By Lumia.  With the additional power of the new tablet, the experience of the fictional Isle of Berk is all around the player: real-world elements including roadways, buildings, lakes, traffic and weather conditions are mirrored into the game, personalizing it and transforming every drive into an adventure.
A great feature that makes Dragons Adventure innovative as a kid's game is the ability for parents to engage with the game… even when they are the one driving.  Parents can create missions, change the action and add new challenges – all through voice command from the driver's seat.
Dragons Adventure is expected to launch before the end of 2013.
Related articles