A new TechZone area will debut at the 2014 International CES (Consumer Electronics Show), it builds on  the 'Internet of Everything' (IoE) concept from Cisco — bringing together people, process, data, and things to make networked connections more relevant and valuable than ever before.
The 'Internet of Everything' is changing everything, creating greater opportunities for organizations, individuals, communities and countries than we saw with the first wave of the Internet.
— Gary Shapiro, president and CEO, CEA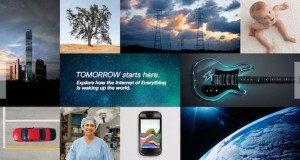 The 'Internet of Everything' TechZone will allow CES attendees to experience Cisco's vision of IoE in action and learn about the opportunities it might create when you connect the previously unconnected.  A large online presence for Cisco's IoE explores many of these possibilities and can be found here (direct link).  The site features the "Internet of Everything Value Index", a means of measuring the impact of the IoE and it's value.
In addition to the 'Internet of Everything' TechZone, Cisco Chairman and Chief Executive Officer John Chambers will deliver a keynote address at the 2014 International CES, sharing his company's vision for the 'Internet of Everything' as part of the Tech Titans keynote series, where CEOs from the most powerful companies in technology present their vision for revolutions in products, services and networks that will shape the next wave of innovation.
Just this morning, Cisco's Chief Futurist Dave Evans published "The Internet Of Everything: Where Technology And Innovation Meet To Make The World A Better Place" on Forbes.com (direct link here).  He shares some great predictions and shows just how interesting the IoE TechZone will be.