The future of connected devices was the focus of GigaOM's Mobilize conference in San Francisco last week.  One particularly insightful session featured Dennis Crowley, co-founder and CEO of foursquare.  Called "When Big Data Meets Local: The Future of Location", Om Malik and Crowley talked about the evolution of the "check-in" and how location-aware technologies, like foursquare, will affect the real-world social experience.
One of the most interesting topics touched on was the evolving definition of the check-in.  Crowley explained that he and the team at foursquare are considering means of making the experience more passive as an integral part of recommendation engines.  Currently, the functionality of foursquare as a tool is entirely dependent on the user.  It is an active experience — the application must be explicitly used to check-in.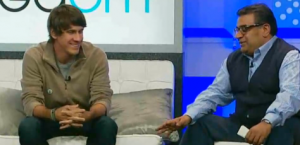 Someday soon however, Crowley speculates that we might be able to just listen to the way a mobile device moves throughout the day.  This evolved check-in would enhance the back-end data that could be used to make real-world benefits.  Malik and Crowley agreed that as battery life improves and high-capacity mobile bandwidth becomes more pervasive, it will let the already powerful devices collect and utilize data to "make the recommendation engine smarter, alert you about things happening nearby or that there's a deal at the restaurant you're in."
Harry Potter has a map where he opens it up and it's where all his friends are and where everything is going on.  I want the map with all the dots that tell me where all the best times are, where the best mozzarella sticks are and where all my friends are. That's the map we're trying to build.
— Dennis Crowley, co-founder and CEO of foursquare
A significant part of Crowley's strategy is based on the continued development of foursquare's "Explore" function as the first step as a local search utility.  There is substantial proof of concept in recent user statistics, Crowley states that while foursquare still records five million check-ins a day, there are a significant number of users are now consuming content instead of creating it.