The FaceCake system for virtually sampling clothing and accessories has been drawing attention since demonstrating at ShowStoppers during the 2013 International Consumer Electronics Show (CES). Designed to give shoppers a way to try on products quickly and easily and provide personalized style advice, the augmented reality suite from FaceCake has grown into a number of different solutions for their own scenarios.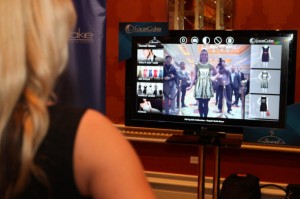 Swivel is a 3D virtual dressing room; allowing customers to view clothing and accessories on their own image in real time from any angle.  Swivel also gives interactive personalized advice and the opportunity to share favorites via social media.
Swivel by FaceCake was in 20 locations during Fashion Week in Sept. 2012 and has a number of retailers planned for 2013.  Variations of Swivel are available from brick-and-mortar retailers to e-commerce sites to mobile phones — potential customers can virtually overlay products on their own image and see what looks best, without the traditional dressing room and without having to remove their clothes.
The sneak peek at ShowStoppers included the new Swivel Close-Up, which provides consumers the opportunity to also try on makeup and jewelry within a two-foot environment, mirroring the in-store experience.
"With the addition of Swivel Close-Up and Swivel Digital Signage we are providing a fully-integrated and highly-personalized shopping experience, FaceCake has not only made the dressing room a whole lot bigger, now shoppers can also take the dressing room with them wherever they go."
— FaceCake Founder and CEO Linda Smith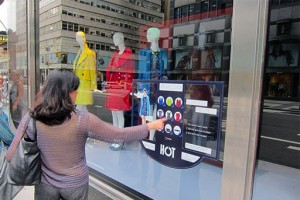 The technology from FaceCake has also been incorporated into Swivel Digital Signage, which entices shoppers by allowing them to try on products before they enter the store and mobile solutions that engage shoppers from their connected devices. Shoppers can save favorites from any platform and build a virtual closet of items they own as well as items on their wish list; as they interact with various FaceCake technologies, any changes they make are available for mobile Try-On so their dream dressing room is now literally in their pocket.