At the Architechnologist we sometimes overlook that technology affects how the world, both real and "enhanced", is designed.  Begun in 2011, the Morpholio Project has created a set of applications that endeavors to open the "discussion, debate and critique" of visual design to the public.  This universal conversation of any one project feels much like a super-size charrette.
The word charrette may refer to any collaborative session in which a group of designers drafts a solution to a design problem.
While the structure of a charrette varies, depending on the design problem and the individuals in the group, charrettes often take place in multiple sessions in which the group divides into sub-groups. Each sub-group then presents its work to the full group as material for future dialogue. Such charrettes serve as a way of quickly generating a design solution while integrating the aptitudes and interests of a diverse group of people.
Wikipedia, http://en.wikipedia.org/wiki/Charrette
Morpholio 2.0 endeavors to re-imagine the artist's portfolio as a starting point and makes it possible for creatives (including architects, designers, photographers, artists, etc) to present, share and instantly discuss their work on one unified platform in either private or public forums with a global community.
One of Morpholio's four co-founders, Mark Kenoff, commented that technology can either dumb-down or enhance a conversation.  Obviously, an example of the potential of tech making an improvement is through Morpholio's drawing process, which can certainly be considered a conversation.
With Morpholio's "Pinup" tool, the artist's work is viewable and searchable. Using "Crit" the user can privately invite other users to critique their work by commenting on and sketching over images.  And the "Printables" option allows the artist to assemble a package of work into books and other creative formats.
The Morpholio "Trace" app (currently for iPad only) approaches the revisits the conceptual phase of the design process with a tablet version of trace paper.  Integrated with the community critique tools, Trace allows world-wide collaboration with a nearly infinite amount of input.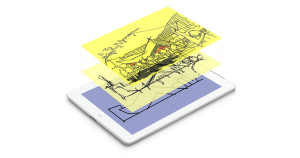 The collaboration is done through the "Palettes" tool with interface options that correspond to different specialties (from interior design and fashion to automotive design and even body art).  A recent update to Trace added new palettes, line styles and paper colors.
The custom Morpholio "Exhibit" application is a collaborative project with museums, tradeshows, retailers, etc to use the communal critique tools for specific installations and exhibitions.  The first public use of Exhibit was installed in New York at the Jewish Museum in 2012.
Kenoff mentioned that Morpholio embraces how we build ideas, calling it the "scaffolding of the mind".  The technology affecting the experience of the world is much the same as the tech that helps design it: a constantly evolving (and hopefully improving) experiment.  And as Kenoff described Morpholio, it is not a company – they are "still experimenting, always experimenting."