There have been tremendous developments over the past two weeks that will forever affect how the Internet of Things (IoT) comes to the consumer… with amazingly little fanfare. The root of the problem is one that has been plaguing the growing technology: "hub fatigue" — specifically, too many disparate items that wanted to connect to the internet through their own application or hub. The potential of one gateway (either hardware or software) to rule them all continues to be the holy grail of the IoT. There have been some contenders for the crown, but none had either the market infiltration or the functionality to take the title and be the first leader in the space.
Comparing oranges…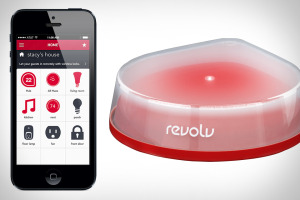 Revolv, one of the leaders in the race for a unified hub was bought outright by Nest Labs (which is part of Google) and immediately dissolved, despite being one of the original "works with Nest" products. While there have been assurances that existing Revolv hubs will continue to function, the company has also made it very clear that there will be no further development of the platform. It certainly appears that this acquisition was more about Nest getting its hands on intellectual property rather than getting into the smart hub business.
"We are not fans of yet another hub that people should have to worry about. It's a great team, an unbelievable team. There's a certain amount of expertise in home wireless communications that doesn't exist outside of these ten people in the world."
— Matt Rogers, Nest Co-Founder and VP of Engineering. via re/code, 24 Oct 2014 (link)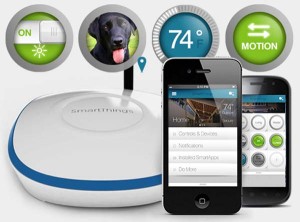 A similar acquisition of SmartThings by Samsung earlier this year has had a very different outcome (so far) — SmartThings is continuing in a business as usual manner; even holding small, local meetups and adding personal experience posts to their website. If SmartThings remains open to functioning with devices from all manufacturers (meaning: free of limitations to Samsung products), then they may be the device that first unifies the "smart place".
There are other products that might be considered consumer hubs, except for their semi-closed ecosystems: Crestron has launched the Pyng hub, Lowe's Iris system (which is damned by a required monthly fee), the Wink is offered by Home Depot and relies mostly on Z-Wave devices and even Logitech has added the Harmony Living Home device to their line of remotes.
and Apple's.
Since it was announced at this year's Worldwide Developer Conference (WWDC) in June, Apple's HomeKit has been nothing to consumers other than a tiny logo with huge promise. For developers however, the final "Made for iPhone" (MFi) specifications was recently published and hardware manufacturers are now able to create products that are designed to integrate with the HomeKit platform. These products, including lightbulbs, locks, fans, thermostats, power outlets, garage doors, and more, are expected to be available to consumers early in 2015.
Just as Apple has finalized HomeKit for end-user hardware, it has been working on the software and the device that will tie it all together. The latest beta of the Apple TV software, includes very specific support for HomeKit, adding the functionality of a smart place hub into the often overlooked entertainment device. The new software turns the Apple TV into a remote access HomeKit peer and should allow devices to sync with the Apple TV, potentially giving users a way to control connected devices via the internet. A next-generation Apple TV box could include the (long anticipated) Siri support, letting users easily control HomeKit-connected devices through the Apple TV dashboard.

But fruit salad is better.
Insights from involved companies speak volumes about the state of the Internet of Things and what Apple has in mind.
Shortly after WWDC, iDevices was selected by Apple to develop one of the first HomeKit products during the finalization of the specifications. Now, they have announced that iDevices will be bringing the first certified HomeKit connected product to market at the 2015 International Consumer Electronic Show (CES) in January. The device, which has not been specified, will work with the iDevices Connected app and iOS 8.0+ devices providing functionality, such as Siri integration.
Apple's entry into home automation was a pivot point in the industry, bringing order to chaos. We immediately recognized the opportunity presented and made the decision to invest $10MM and take full advantage of it.
— Chris Allen, iDevices CEO and Founder
For any product to be certified as Made for iPhone, they require chips (Bluetooth and WiFi) from an Apple-approved chip makers: Texas Instruments, Marvell or Broadcom. This gives these companies an unquestionable insight into the Internet of Things market:
It's been a real fragmented market for a long time. It's critical to certify the interoperability of devices and make sure everything can join to a network. One thing HomeKit provides is the bridging protocols for various devices to connect simply by Wifi to the cloud. Apple is widening access to their ecosystem and we'll see more and more products. The goal is to create a better consumer experience for the iOS ecosystem and provide a simplified and unified approach to control home devices. We're just starting to see the first wave of many products.
— Brian Bedrosian, Broadcom Mobile and Wireless Group, Senior Director of Embedded Wireless
Far more information will be made available to manufacturers and developers at Apple's "Made for iPhone (MFi) Summit" in Shenzhen, China at the end of next week. It is reasonable to expect announcements about new certified HomeKit devices as well as reports related to iBeacon, AirPlay and more.