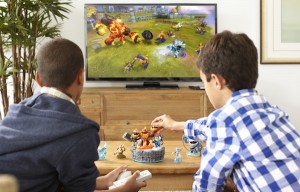 Just about a year ago on TECHNOGORILLA we introduced a video game for the major consoles that pushed through the "fourth wall" – Skylanders: Spyro's Adventure used real-world figurines to activate virtual characters by placing them on the "Portal of Power".  Using radio-frequency identification (RFID) technology, each individual figurine has it's own battery-free internal memory allowing in-game achievements (loot, experience, weapons, etc.) to travel not just between platforms but anywhere the figure goes.
Ed. Note: The post for the Skylanders: Spyro's Adventure video game premier can be read here.
The adventure is continuing this year with the newly released Skylanders Giants, a new game that adds new characters (and their figures) and new innovations that build on the RFID technology from Spyro's Adventure.  Sixteen new characters are introduced; most notable (as far as game-play is concerned) are the super-sized giants – each more than twice the size of a regular Skylanders figure.  Our official video game testing team (an 8 year-old and twin 4 year-olds) not only loved the extra power of the giants, but the attitude of the on-screen personalities.
The RFID technology that made Skylanders innovative is expanded upon with LightCore Skylanders.  These new figures, including giants and new Series 2 versions of some of the original characters, light-up in both the game world and in the real world, no batteries required, as players' transport them into Skylands using the Portal of Power.
Another technological innovation in Skylanders Giants comes from the advanced integration across console, handheld, mobile and online versions; including the Wii U, where additional puzzles and mini games utilize the gamepad's unique tilt and touchscreen functionality.
Very often new technology makes its first public appearance in entertainment or gaming settings, but RFID has far too many possibilities for that.  Already, digital payment systems (like Google Wallet) and keyless entry systems use it and now, with a little help from the Skylanders video game, it has begun its infiltration into daily, "normal" life.