Augmented reality for the consumer has taken another step towards reality. Building on the amazing Sony SmartEyeglass hardware announced at the 2013 International CES, the technology giant selected few partners to illustrate the potential of their smart glasses. Wikitude, a leader in the development of augmented reality as a platform, was tapped to demonstrate the power and abilities of the binocular device utilizing their robust software development kit (SDK) and was was presented during IFA Berlin, one of Europe's most prominent consumer electronics shows.
The Wikitude App in combination with Wikitude Studio is the ideal package for brands and businesses who want to easily publish augmented reality campaigns and projects to the world. In addition to our already long existing Wikitude SDK, which is mostly suited for programmers and developers wanting to build their very own AR app, we now have an additional offering for "non-technical" folks, who are looking for easy tools to create, manage and publish AR in the already existing Wikitude App.
— Andy Gstoll, CMO, Wikitude GmbH
Wikitude has partnered with several companies to demonstrate the effectiveness of augmented reality as a tool for marketing, education and more. The "Discover Ford" app uses Wikitude software to create an AR guide to Ford vehicles available for sale in Malaysia. Using a smartphone, users can explore new vehicles, learning about the highlights with AR-based video.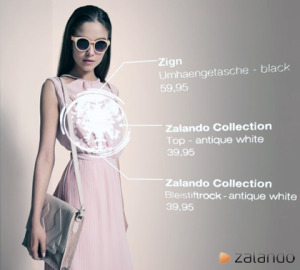 Combining the possibilities of new hardware with new applications, Wikitude partnered with online fashion retailer Zalando and concept car firm Rinspeed to produce a unique augmented reality concept. Attendees at the 83rd annual Geneva Motor Show saw a possible future of mobile shopping through a Wikitude-powered augmented reality display mounted inside Rinspeed's concept car. Using image recognition technology, the Wikitude display scanned models that featured clothing available from Zalando and provided attendees with further information, as well as purchasing options.
Developers like Wikitude are just as important to the evolution of the future use of augmented reality technology as the creators of the hardware… it will take innovation from both and creative cooperation.