After it's acquisition by Samsung, there were doubts about the future of an independently operating SmartThings (you can read our piece that broke the news here) — it appears that the fears were (at least for now) unfounded. The company announced a new Hub at the 2015 International CES with a more powerful processor and local app engine, built-in backup battery power and expanded cellular connectivity options which enable SmartThings to keep operating in the event of a power or Internet outage. The new Hub also expands connectivity options to include additional protocols such as Bluetooth Smart, providing users with the widest range of devices supported by any smart home platform.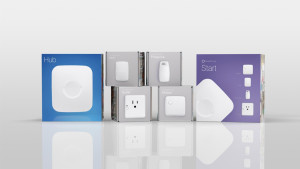 SmartThings device integrations continue to rapidly evolve, providing the best range of choice and control for users. Alongside the new Hub, SmartThings is rolling out new "micro" versions of its core sensors, which are one third the size of its first generation devices. Examples of new third party integrations with the next generation platform include Netgear cameras, Philips Hue, Honeywell thermostats, Chamberlain garage door openers, August locks, and (of course) all Samsung smart appliances. SmartThings is also expanding the number of ways that users can connect with and control their homes, with demonstrations of new apps for the Gear S and Samsung Smart TVs.
One major change in direction for SmartThings is the launch of a subscription service, much like the generally disliked program for the Lowe's Iris system. The service will offer users advanced home monitoring capabilities that are not available without the subscription, in direct opposition to the totally free and open platform that exists now. Included in the new service is the ability for SmartThings to automatically send users or other designated contacts a text or call when a problem is detected within the home that requires immediate attention, such as a flood or fire. The premium service also includes built-in DVR services for cameras.
The new SmartThings Hub, sensors, and premium subscription service will be available for purchase nationwide in the U.S. and Canada in April 2015.