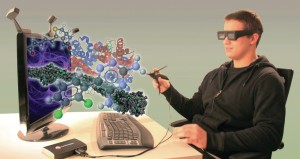 Leonar3Do has introduced two new products to their award-winning virtual reality (VR) lineup.  Their 3D VR kit with the unique "bird" mid-air mouse is the starting point for the new technology.
The first addition is the free HelloVR application that promises to allow smartphones to interact within a VR environment, acting as a 3D mouse within the design or educational software offerings from Leonar3Do.  The application requires no additional hardware, yet it enables users to explore, interact, create and learn in a 3D environment previously only possible with special hardware.  HelloVR, and the first apps to interact with it,  is expected to be available in Q1 of 2013.
We're delighted to introduce this app that offers the ability to transform one's PC and smartphone into a 3D workspace. This is just the first of several tools and apps we plan to deliver to customers that will help them explore and create and be inspired.
Roland Manyai, Leonar3Do's business development and marketing director.
Aimed at the educational market, the second introduction is the Vimensio line of software products.  Leonar3Do aims to offer a new, exciting approach to teaching and learning by moving beyond traditional 2D-based textbooks and classroom lectures.  Built on top of Leonar3Do's virtual reality system, Vimensio is comprised of a creation application (for the educator) and a player application (for the student).  The creation app, named Vimensio Edit, enables users to create educational content without any programming knowledge.  Available in two different versions, Vimensio Edit is for users with no coding skills, while a Pro version is ideal for advanced 3D designers and 3D professionals, who are more proficient at coding simple scripts.
An integral part of the Vimensio system is an online store, which will distribute content that will assist and inspire teachers by sharing educational or training-related apps.  Ideally, the store will build a community of content creators who will be encouraged to share their apps with others.  Leonar3Do will be demoing a number of apps at CES, with two of them built by users.
LeoART is a unique, 3D sculpting and modeling software that lets users tap into their artistic and creative talents. Linked to a 3D printer, LeoART opens up entirely new potentential to innovate and create.
3D Parts Center allows users to assemble and disassemble cars in virtual space. Users can view cars in 3D, disassemble and visualize them and learn every detail in a virtual space environment.
Two other real-world, professional demos include a 3D training and simulation app that trains welders, and a practice and assessment application, created by a facial reconstruction doctor, which uses the 3D app to prepare for highly complex, intricate surgeries he plans to perform.
More information is available directly from Leonar3Do at Leonar3Do.com or vimensio.com.