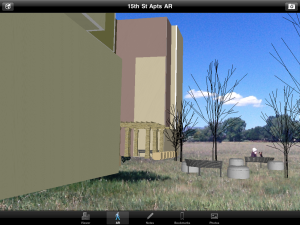 When an emerging technology begins filtering into tools that are already in the hands of the average user, there is a innovative tipping point approaching.  At a press conference during the 2013 International Consumer Electronics Show (CES), just such a point may have been reached with the launch of a new geo-location and marker-based 3D Augmented Reality (AR) system named VYZAR.
The SightSpace 3D viewing application uses information from Google Earth to overlay models created by the hugely popular SketchUp program onto the real world, in real-time, to scale with augmented reality.  The VYZAR system allows the user to interact with a model in the real world and virtually walk through it using an Apple iOS or Android device as an augmented lens on the world.
Of course, the SightSpace 3D application also allows non-augmented reality viewing of SketchUp models.  Users can accurately display designs on-site, annotate models on-the-go, bookmark views, take screenshots, and share notes and photos.
The SightSpace 3D application is available for the Kindle Fire, Apple iOS and Android devices.  The augmented reality feature is available on iPad 2nd and 3rd generation, iPhone 4/4S and 5, but not on the Kindle Fire.