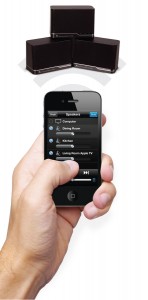 At a Press Conference during the International CES, VOXX (formerly Audiovox) Acoustic Research introduced a system to provide whole-home audio using two already established technologies: WiFi and iTunes.  The Stream Wireless Home Audio System is entirely wireless, using AirPlay technology and specially-tuned speakers, resulting ins a system that is incredibly simple to setup and far less expensive than other systems that provide a similar result.  The Stream system is controlled through iTunes, either on a desktop or iOS device.  For more information go to www.acoustic-research.com
Audiovox Electronics introduced its first automotive wireless charging cradle with embedded Qi (pronounced Chi) technology. This new automotive wireless charging cradle delivers more freedom of positioning a Qi-equipped smartphone in the cradle to maximize charge to the device and retain typical "wired charging" rates.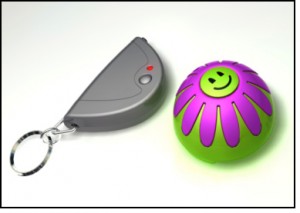 Audiovox Electronics also announced an expanded InSite wireless separation and anti-loss product line.   Child locator separation alarms with an operating range of up to 150 feet away come in two different styles — soccer ball and flower.  Simplicity is the key for these alarms… the parent carries a transmitter on a keychain or purse and presses the alarm button on the receiver unit if the child is suddenly out of view.  By using the velcro strap, the receiver can attach to several items, like a sneaker, belt loop, back pack and more.  Other new devices in the InSite line are Bluetooth low-energy wireless separation / anti-loss alarms that work with the Insite app by pairing the device to your Bluetooth-enabled product or attach the signal transmitter to your valuable devices.  The receiver will alert you via alarm if you leave a pre-determined area without your valuable electronics.  For more information on where to purchase tags and download the software, go to www.phonehalo.com/ces.