There is a recent trend in the creation of high-tech hotels, the first in the obvious locations, such as the Bay Area and New York City.  Based on their success, not just with technocrats who shuttle between coasts but also with hyper-connected business travelers, these specialty hotels are now expanding to other "wired" cities.  The recently renovated Hyatt Regency Chicago has been called the most "high tech hotel" in the world and has the amenities to prove it, thanks to AVT Event Technologies, a firm specializing in A/V services catering to the hospitality industry.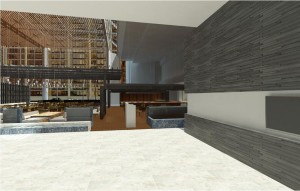 iPads and Kiosks are the preferred method of check-in (traditional face-to-face check-in is available for the technophobe); allowing guests to select their room, inquire about upgrades and obtain a RFID room key.
There are more than a hundred large-format plasma television displays within the Hyatt Regency Chicago, many with interactive touchscreen technology, to assist guests.  The screens provide digital signage for meetings or conventions and interactive displays allow guests to use Google Maps to find their way around the city, inquire about hotel services and move around the property.
Of course, the hotel is blanketed with WiFi access, with over 800 wireless access points hidden throughout the property.
"The goal was to provide guests with approachable technology options designed to optimize their stay. From checking in, to navigating their way around the property, we've taken every measure to ensure productivity through technology."
— Patrick Donelly, General Manager
The completed renovation is set to make it's grand debut in April (although it is nearly complete now).  If you are heading to Chicago, I would suggest visiting www.chicagoregency.hyatt.com for the latest information about the Hyatt Regency Chicago.