Ideal for documenting progress and change, RaksaCam provides real-time, virtual access to construction sites from any browser.  The RaksaCam hardware is a weatherproof, encapsulated camera that takes high-resolution images once a minute and automatically uploads via a cellular connection with a second, redundant connection to guarantee reliability.
Urban designers, landscape architects, anthropologists, city planning officials as well as developers, shipyards, engineering companies and broadcasters can use RaksaCam for real-time access to the project sites and to provide the same view for their stakeholders.  Up-to-date images convey a wealth of data for developers as well as other interested parties, such as suppliers, authorities, customers and residents.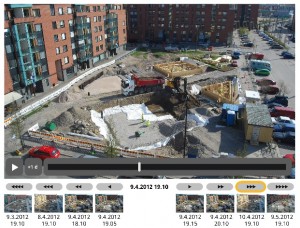 Case Study: Virtual visit to Tapio Wirkkala park
American avant-garde stage director Robert Wilson designed an artistic, urban park in Helsinki, Finland.  A RaksaCam construction site camera documented the transformation of the empty lot into environmental art with grass sections, trees, paths build with wooden illuminated platforms.  During the different stages of making the park, stakeholders and people interested in the area have been able to take a real-time look at the park from their laptops, wherever they are via the RaksaCam online photo service.  Today, while residents of the housing area can enjoy the view to the park from their windows, anyone else can virtually visit the park as well as travel back in time and study photos from the photo archive or watch the time-lapse-videos.
Visit www.raksacam.com for more videos and a listing of resellers to find a RaksaCam closest to you.