Just over a year ago, we said that at the Architechnologist we sometimes overlook that technology affects how the world, both real and "enhanced", is designed ("Morpholio, A Virtual Charette", direct link). We had discovered a series of applications from the Morpholio project, called the "scaffolding of the mind" by one of the co-founders, Mark Kenoff. Recently they released the "Board" application, this time with the goal of changing the way that interior designers present their ideas.
Call them what you want: design, presentation or mood boards have always been an essential tool for creatives. We are broadening their impact and potential with a brand new platform that combines intuitive and accessible layout features with a killer library of over 1000 top-notch curated design products."
— Ciara Seymour, Co-Creator of The Morpholio project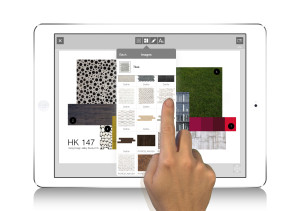 Morpholio is forcing the evolution of these mood boards by creating a gallery of important objects in collaboration with important companies including Herman Miller, Knoll, 3Form, Porcelanosa and many other established, as well as up-and-coming design stars such as Room, Bensen, Volk Workstead and Aimee Wilder.
Simplifying how mood boards work for the public while making them infinitely more robust for the professional might seem to be an impossible task, but Morpholio seems to have done it. A simple description of how the "Board" app does it was provided by Morpholio; by bringing together innovative features that allow users to work in a fast, intuitive and organized way:
Gallery – A selection of furniture, fixtures, accessories, materials and more, curated by design experts… and links to official sites for reference.  Choose a classic chair, then visit the website to clip color or fabric options.
Tag It – The board will compile an "Item List" of all objects clipped from the gallery or web and email it directly to your inbox.  Go to your favorite paint site and clip a color swatch or choose an accessory anywhere on the web.
Conference Table – An exciting layout option that allows you to keep objects in the margins for fast access.  This feature re-imagines client and team presentations as interactive work sessions where feedback can be instantly assessed and incorporated.
The Portal – An amplified web clipper that allows you to pull imagery from the web, directly from Pinterest or from your own libraries.  This pairs with a background subtraction feature that lets you extract objects to create great clip art.
Entourage – An extensive library of people, symbols, backgrounds of any color, cork, or graph paper and text options to add graphic polish to any layout.
Illustrate – Draw, sketch, mark up or write over any image.
Broadcast – Seamlessly share to Instagram, Facebook, Twitter or mail.
The Board app is available for iOS from the app store [button link="https://itunes.apple.com/us/app/morpholio-board…/id761867957?mt=8&ign-mpt=uo%3D4″ size="small" style="download" window="yes"]iTunes Link[/button]
And the full experience can be previewed from the Morpholio project on their site: [button link="http://www.morpholioapps.com/board" size="small"]Direct Link[/button]